Other Fiber Technology Industry News
Below you can find a compilation of the most interesting publications on the web regarding the Fiber technology industry. If you feel your article is missing, please let us know and send us your publication: info@teldac.com
Australia's plans to build foreign ties with undersea cables hit snags at home
03-08-2018
SYDNEY (REUTERS) - When Australia bankrolled undersea Internet cables for its Pacific neighbours, it shut out a competing offer from Chinese telecom giant Huawei Technologies. But the strategic mov... » Read more
New Brazilian subsea cable project to boost US-LATAM connectivity
03-08-2018
GlobeNet expects the new subsea cable system to be ready for service by the middle of 2020 International connectivity and infrastructure specialist, GlobeNet, has announced plans to extend its tele... » Read more
The Stupidly Easy Way to Win World War III: 'Cut the Cables'
03-08-2018
If, however, you wish to practice hybrid warfare—disruption and degradation with little overt engagement—then the ability to cut submarine cables at will and at depth gives you a very p... » Read more
Xtera Communications : Two C, or not two C?
03-08-2018
One can never have too much capacity or too low a cost; these have been two significant drivers in telecoms for quite some time. The desire for as much capacity as possible pushed Xtera ( www.xtera... » Read more
How is the subsea cable boom transforming global data flows?
06-07-2018
Cloud services, video streaming and gaming are driving the flourishing submarine cable industry. As the world becomes even more intricately connected than ever before, some serious infrastructural ... » Read more
China Mobile to build second APAC data centre in Singapore
04-07-2018
Chinese telco has begun constructing its data centre in Singapore, which will be able to house 2,100 racks and is its second built-up facility in the region. China Mobile International has begun c... » Read more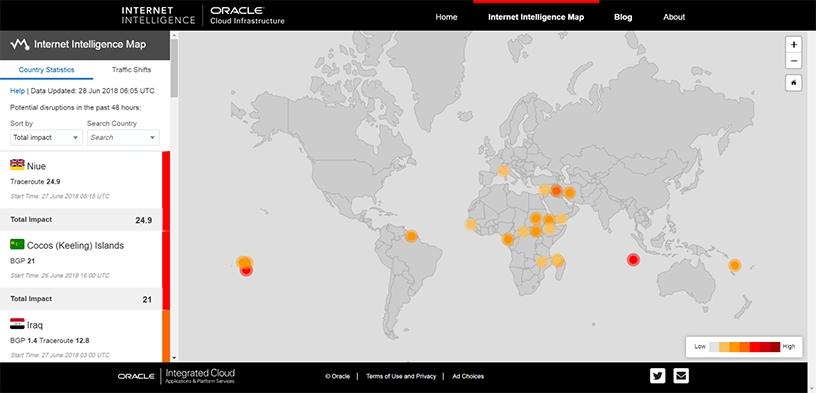 Free Oracle dashboard maps global Internet health
04-07-2018
O racle has announced the availability of an Internet Intelligence Map , providing the public with a graphical way to track the health of the global Internet. The online map enables users to extrac... » Read more
International Carrier Selects Zayo for Wavelengths
29-06-2018
BOULDER, Colo.--( BUSINESS WIRE )--An international carrier has selected Zayo Group Holdings, Inc. (NYSE: ZAYO) for an optical wavelengths solution. The carrier is among the world's largest b... » Read more
BSNL to enhance bandwidth 400 times in A&N island in 2 yrs
29-06-2018
State-run telecom firm BSNL today said it will connect Andaman and Nicobar Islands with optical fibre cables which will provide initial capacity of 400 gigabit per second to the union territory.» Read more
European Subsea Cables Conference - Call for Papers
22-06-2018
GUISBOROUGH, England--( BUSINESS WIRE )--The European Subsea Cables Association (ESCA), the European trade association for submarine power and telecommunications cables announces that its next bi-a... » Read more
More news...