AFL Introduces FlowScout PON Optical Power Meter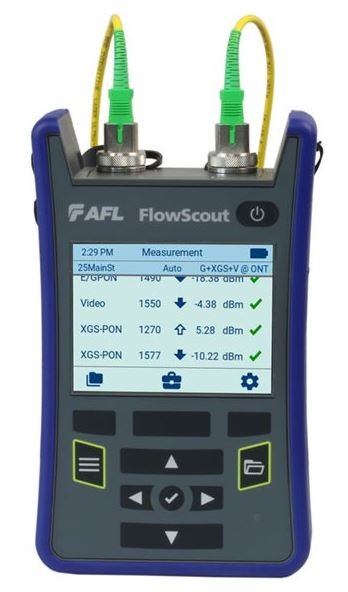 Westford, MA and Spartanburg, SC – AFL, a manufacturer of fiber optic cable, accessories and equipment, is launching the award-winning FlowScout PON Optical Power Meter, an essential tool for network activation, testing and troubleshooting of passive optical networks. Used on PON networks such as BPON, EPON, GPON, 10G-EPON, XG-PON, XGS-PON and video, FlowScout automatically detects up to five wavelengths and measures power in a few seconds. The power meter includes a visual aid to help technicians choose the right testing location to ensure the appropriate testing limits.
"FTTx/PON has become the technology of choice to meet the exploding bandwidth needs for homes, businesses and 5G backhaul. As telcos, cable operators and rural networks around the world deploy 10G PONs, and with XGS-PON leading the pack, AFL provides a variety of testing tools to build, activate and troubleshoot PON networks," noted Al Swanson, general manager of AFL's equipment business. "FlowScout becomes the latest addition to our wide variety of FTTx tools in our portfolio."

Additional features of the FlowScout PON Optical Power Meter include:
Detects multiple wavelengths automatically with no setup required!
Simultaneously detects and measures upstream and downstream GPON, XGS-PON and video signals
Evaluates and displays pass/fail status relative to expected min/max signal levels
Optional field-swappable Port Saver connector adapters
Large daylight viewable color touchscreen display
Rugged and water resistant IP54 rating
Rechargeable Li-Polymer battery
"FlowScout is the easiest way to verify PON network power levels," explained Arun Jain, director of product marketing for AFL. "All a technician has to do is plug in the fiber and it detects multiple wavelengths automatically. No setup is required, no need for referencing and no buttons to press. It is completely automated."

FlowScout has received multiple industry awards including a high score of 4.0 from the 2020 Lightwave Innovation Reviews. One Judge's commented: "Not just another tester! It's a "plug and play" tester! This should help speed up the testing process and eliminate a lot of confusion in the field."

AFL designs a host of test and inspection equipment that are easy-to-use and provide quick results, including OTDRs, fiber identification tools, optical power meters, test kits, cleaning and more. For additional information about AFL, its products and service, visit www.AFLglobal.com.

About AFL
Founded in 1984, AFL is an international manufacturer providing end-to-end solutions to the electric utilities, wireline and wireless network operators, cloud content providers, and enterprise markets as well as industrial markets which support oil & gas, mining, defense and more. The company's products are in use in over 130 countries and include fiber optic cable and hardware, transmission and substation accessories, outside plant equipment, connectivity, test and inspection equipment, fusion splicers and training. AFL also offers a wide variety of services supporting data center, enterprise, wireless and outside plant applications.

Headquartered in Spartanburg, SC, AFL has operations in the U.S., Mexico, Canada, Europe, Asia and Australia, and is a wholly owned subsidiary of Fujikura Ltd. of Japan. For more information, visit www.AFLglobal.com. Follow us on LinkedIn, Twitter, Facebook, and read our blog.
---