EXA Infrastructure drives investment across the Iberian Peninsula expanding second diverse transport route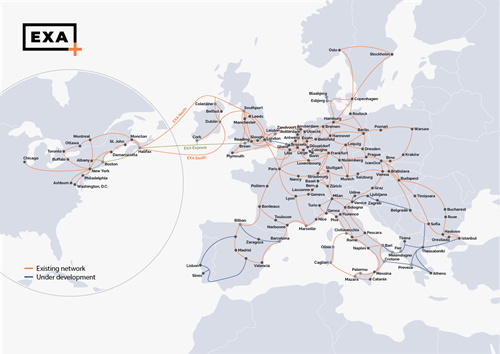 EXA Infrastructure, the largest dedicated digital infrastructure platform connecting Europe and North America, today announced it will be further investing in the Iberian Peninsula with a second new diverse terrestrial transport route between Spain and Lisbon connecting to EXA's Spanish backbone. The new northern route will serve increasing customer demand across the Iberian Peninsula connecting to data centre hubs across Europe.
The additional network investment comes after WIOCC chose EXA to diversify its network connectivity between Africa and Europe. The signing of the deal enables WIOCC to utilise a new gateway to Europe on a high-capacity network.
EXA's strategic investment in southern Europe promises to enable the most diverse transport to high growth cable landing stations (CLS) and datacentres powering connectivity throughout Europe.
"Resilient connectivity is critical and EXA is absolutely committed to meet the rising demand of digital traffic by strategically expanding our network investment across Spain and Portugal," said Steve Roberts, Vice President Network Investments at EXA Infrastructure. "We continue to deliver on our promise to be the most expansive and dedicated infrastructure network in Europe with our focus firmly set on delivering the most diverse transport options for our customers."
In October, EXA announced a new terrestrial transport route to Lisbon and Sines in Portugal after identifying that Spain is quickly becoming the epicentre for digital traffic.
"The digital age is driving internet traffic faster than ever before, changing lives, growing businesses and economies. EXA are committed to meeting this demand by investing and expanding our network for new and existing customers," EXA Infrastructure Chief Commercial Officer Nicholas Collins said. "We are excited to be the business that is shaking up the sector and will continue to be the most expansive and dedicated infrastructure network in the market."
About EXA Infrastructure
Headquartered in London, UK, EXA Infrastructure is the largest dedicated digital infrastructure platform connecting Europe and North America, and owns 112,000 kilometres of fibre network across 32 countries. EXA's network connects 300 cities and offers 14 Tier 3-equivalent data centres, with sub-sea routes that include three transatlantic cables, one the lowest latency link between Europe and North America. EXA is wholly-owned by I Squared Capital. For more information, see exainfra.net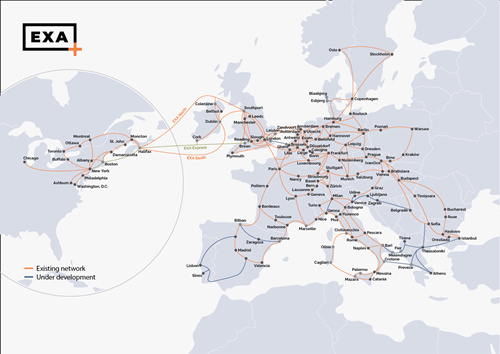 ---